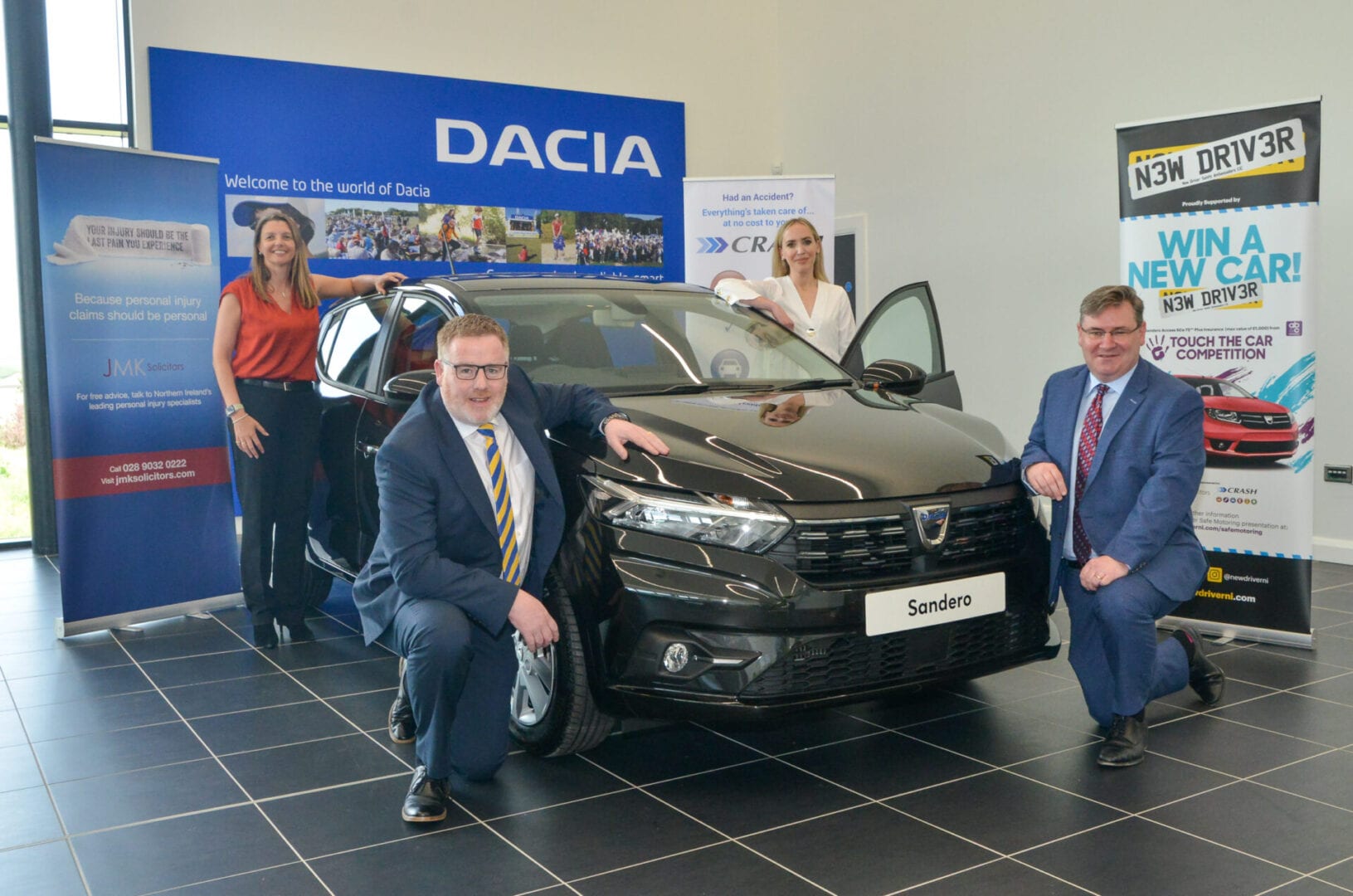 CRASH Services and JMK Solicitors sponsor New Driver NI's 'Touch The Car' Competition taking place this June.
CRASH Services are once again delighted to be corporate partners of New Driver Safety Ambassador Limited, offering a chance to win a new car this June in the 'Touch The Car' Competition.
New Driver is a community interest company that aims to educate all new drivers and passengers on making good motoring decisions. The company's representative visits over 100 sixth form year students in schools each year to deliver a safe-motoring presentation and offer advice to anyone about to start driving.
Stephen Savage, Project Manager at New Driver Safety Ambassadors commented, "After a difficult year of lockdown, we are delighted to offer ten readers the chance to win a new Dacia Sandero Access SCe 75* (worth £6,995) and £1000 towards insurance. The prize is kindly sponsored by CRASH Services and JMK Solicitors, and insurance by AB&C Insurance.
On Saturday 26th June ten participants from across Northern Ireland will join us at Shelbourne Motors, Newry for their chance to take home a new car. They will have the full day to keep their hand on the car with the last person still 'touching the car' being crowned the winner, with a live interview on Q Radio! There will be some surprises and challenges thrown in during the day as Q Radio will be in attendance!"
Participants entering the 'Touch The Car' Competition include Danielle Walsh – St. Louis G.S. Ballymena, Tom Savage – Our Lady and St Patricks College Knock, Craig McLaughlin – Dalriada School Ballymoney, Jessica Cuthbertson – Omagh High School, Anthony McGarrigle – St Malachys College Belfast and Clare Diamond – St Patrick's Maghera. The final three participants will be drawn to enter the competition on 15th June. The participants were randomly selected over the last number of months, after they completed the safe motoring presentation on the New Driver website.
Ronan Marshall, Marketing Manager at Shelbourne Motors is looking forward to the event "It will be a very exciting day for us and good to see some positivity for young drivers after a long and difficult year. It's something new and creative I've never seen before".
Jonathan McKeown, CEO at CRASH Services said "We are delighted to support New Driver Safety Ambassadors.  As an accident management company, we feel there is a real importance to educating novice motorists on the importance of safe driving as they progress into the roads for the first time. We are delighted to offer one lucky person the chance of winning a new car this summer!"
Olivia Meehan, Legal Services Director at JMK Solicitors commented "As a legal firm specialising in personal injury cases, many of which are a result of road traffic accidents, we feel there is a real importance to educating young people on the importance of safe motoring as they progress into driving for the first time. We are delighted to support New Driver Safety Ambassadors and the exciting 'Touch the Car' competition!"
Mr Savage commented "We are pleased to see covid restrictions ease and already have bookings for the Safe Motoring presentation back in schools this year for the new term."
The programme is completely free for schools as funding is provided by DFI Road Safety Grant Scheme, Mid and East Antrim PCSP, and by corporate sponsors including; CRASH Services, JMK Solicitors, Hankook Tyres, AB&C Insurance and DriveTech UK and assistance from four Policing and Community Safety partnerships.
For more information and access to the New Driver NI magazine see www.newdriverni.com.
---
If you've been in an accident, CRASH Services can take care of everything at no cost to you. Please speak to one of our specialists from our claims team today. Or call us now on 028 9066 0244.
We offer a range of services Accident management, Recovery, Repairs, Replacement Vehicles, Claims, Breakdown Cover, and Legal and Medical assistance.
Read more news stories here.
We are proud to help our customers, click the link to see a few examples of the fantastic feedback we received recently.