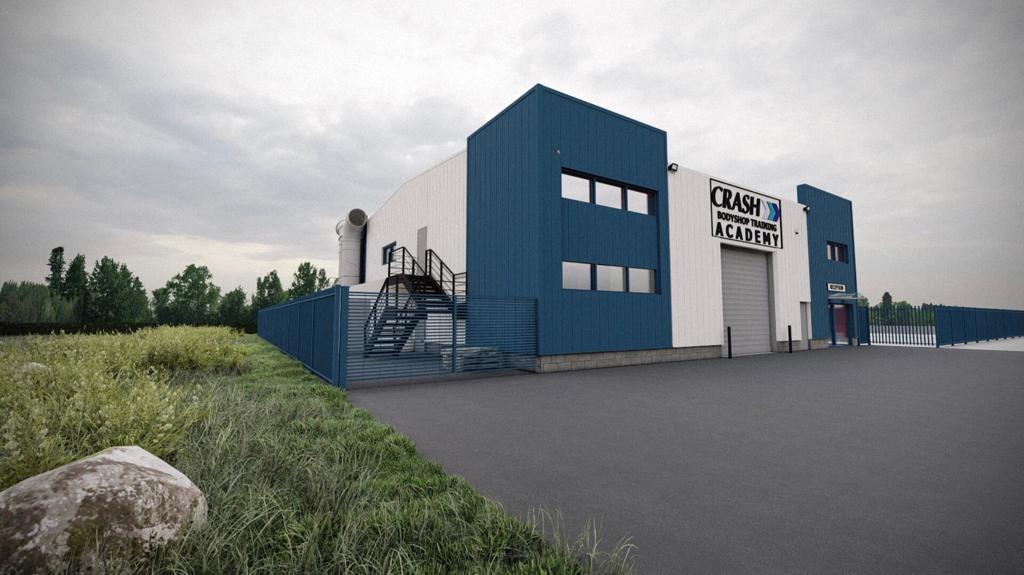 Northern Ireland's 'best in class' accident management company, CRASH Services, has announced a major investment as it aims to open a new vehicle Bodyshop Training Academy in Newry in Autumn 2021.
Plans were recently drafted and submitted by local Architect David Maxwell for the new academy, which will be based in Greenbank, Newry.
The new facility comes amid an escalating shortage of skilled and expert body shop workers.
The planning application is expected to be approved in Spring 2021, with CRASH Services saying the facility will open for enrollment in September 2021 for new apprentices and courses aimed at up-skilling existing members of the industry.
CRASH has moved into the forefront of promoting rewarding career opportunities in body repair and enjoys a close relationship in the industry with independent repairers and the Northern Ireland Bodyshop Alliance (NIBA).
The company already runs a hugely successful Body Shop Apprentice Scholarship to attract more apprentices to the local car body repair industry.
Jonathan McKeown, CEO at CRASH Services, says it will help promote the independent industry as an attractive career path for young people.
"There is a widely acknowledged skills shortage for body shop repairers; not just in Northern Ireland, but also in GB and Ireland. It's an industry that needs support to continue to provide its highly technical and essential services," Jonathan says.
"The premises will be based at the former site of Duffy Accident Repairs in Newry. PJ Duffy is a well known and highly valued member of the local vehicle repair fraternity and his retirement from it came at a time when we were looking to see how we could support NIBA achieve its objectives.
They recently launched a TV ad campaign to promote its members and we see our assistance with a training scheme as another way to increase the public's awareness of what the industry does.
We are really excited about our Bodyshop Academy, and we think it'll be a great way for both young people and those thinking of switching careers to enter a challenging environment where their talents will be recognised." he continues.
The Newry-based centre is expected to provide Institute of the Motor Industry (IMI) accreditations for Vehicle Damage Assessors (VDA), Panel, Paint and Mechanical Electrical Trim (MET) Technicians.
Visuals of the New CRASH Bodyshop Training Academy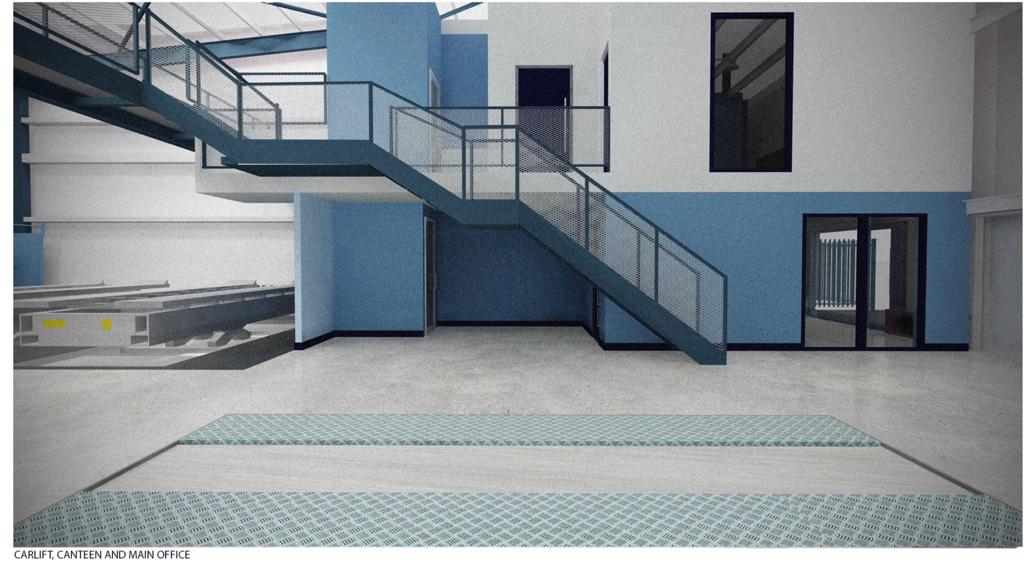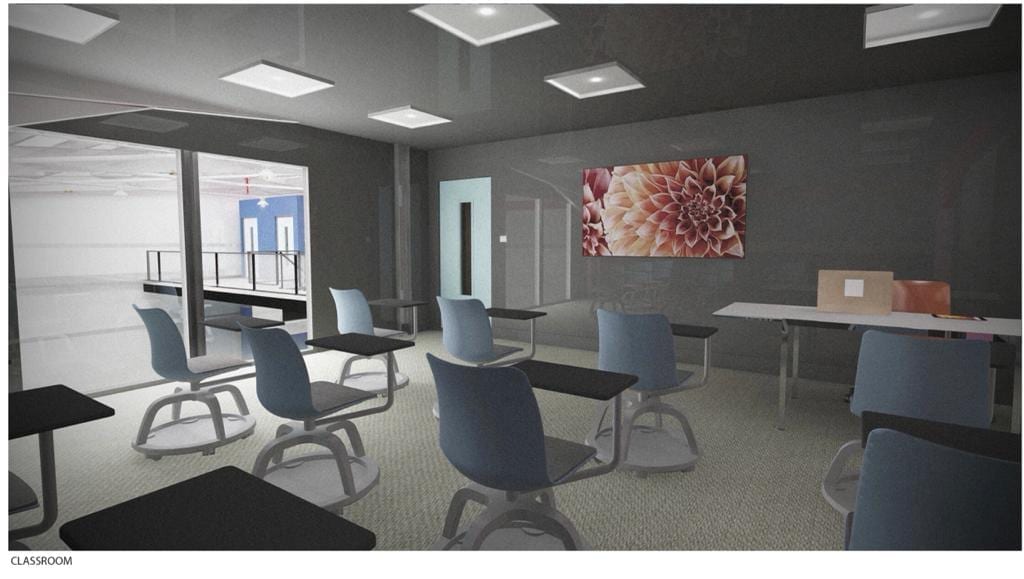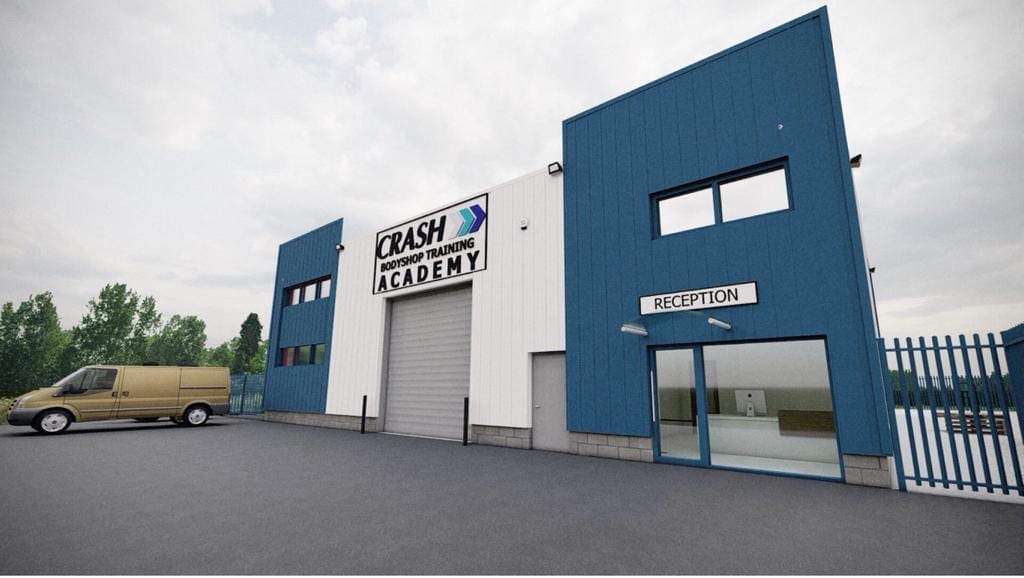 The academy will also provide up-to-date training for experienced independent body shop repairers too, Jonathan explains.
"Through this initiative we will raise the profile of independent vehicle repairers and their employees and ensure they are equipped with the qualifications, skills and experience to compete with the high volume insurer controlled bodyshops.
This will set the independent network apart as they will have the skillset necessary to fix the sort of high value, complex repairs required for modern vehicles which are probably more difficult to repair than an Airbus or Boeing jetliner," he adds.
The academy also aims to offer and deliver apprenticeship standards in all vehicle repair disciplines, including Electric and Hybrid qualifications in line with government plans and initiatives.
Explaining the vision for the new building, Architect David Maxwell says, "We're delighted to be working with CRASH Services once again.
Trainees at the academy will enjoy a fully equipped centre with modern facilities to cater to practical and classroom-based education.
It will have welding booths, a spray room, classrooms, car lifts, and a canteen for apprentices to learn and thrive in an environment unlike any other in the country," David adds.
Discussions have already taken place between representatives of CRASH and the Southern Regional College aimed at ensuring complimentary educational outcomes can be achieved by both institutions.
To find out more about CRASH Services and to keep up to date with news about the Bodyshop Academy, see our latest news. For more information on NIBA see NIBodyshop.com.
---
If you've been in an accident, CRASH Services can take care of everything at no cost to you. Please speak to one of our specialists from our claims team today. Or call us now on 028 9066 0244.
We offer a range of services Accident management, Recovery, Repairs, Replacement Vehicles, Claims, Breakdown Cover, and Legal and Medical assistance.
We are proud to help our customers, click the link to see a few examples of the fantastic feedback we received recently.