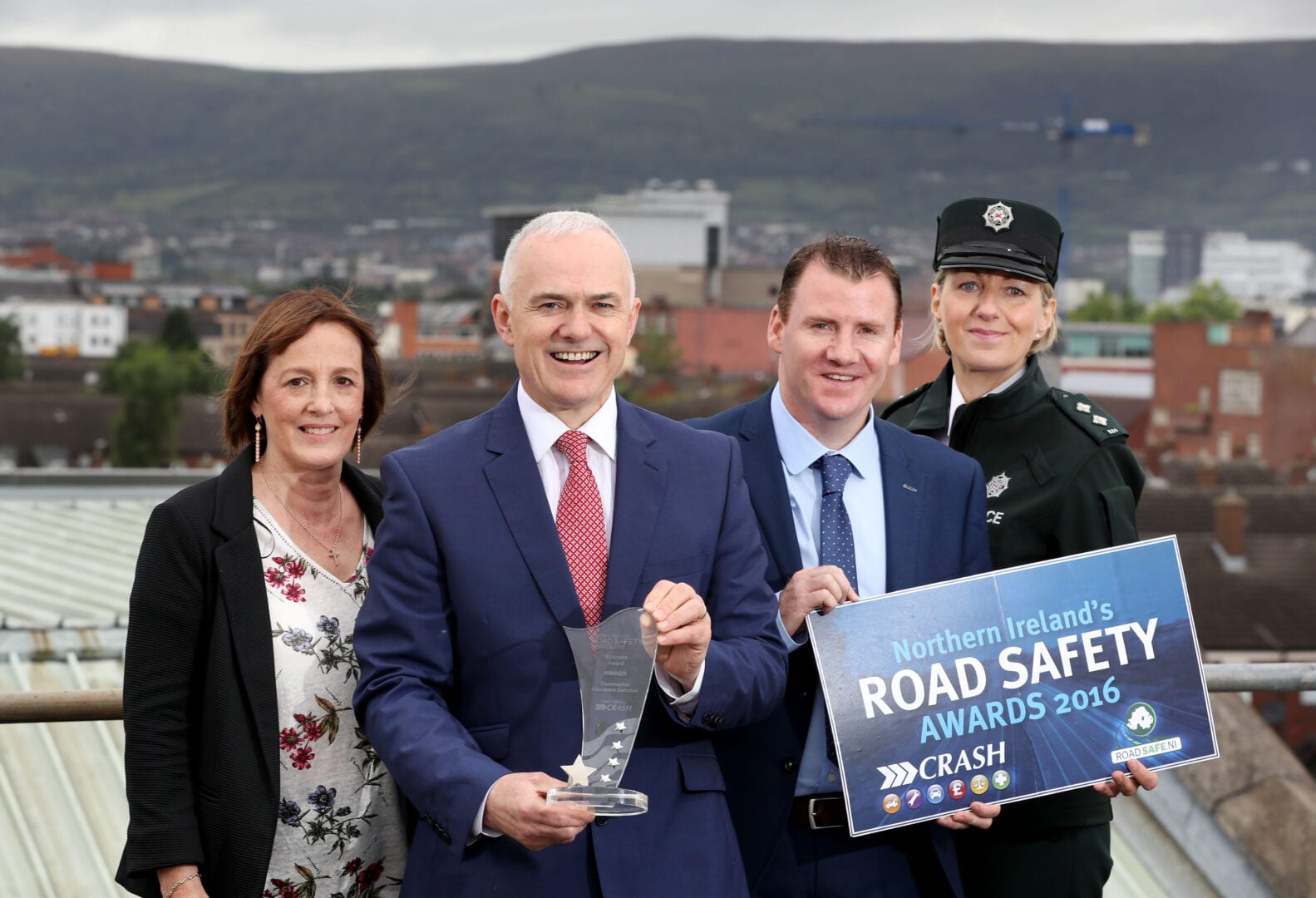 (2016 awards launched by U105¹s Frank Mitchell, Joan Kinnaird, Chair of Road Safe NI (formerly Road Safety Council), Inspector Rosie Leech of the PSNI and Tony McKeown, Sales and Marketing Director of CRASH Services.)
NI Road Safety Awards 2016
After a successful inaugural event last year, the NI Road Safety Awards now play an important role in the promotion of road safety while honouring those who work tirelessly to improve road safety in their communities.
Launched today (Friday, 9th September) at a major stakeholder event in Belfast, the call is now officially out for fresh nominations for 10 prestigious award categories. Everyone in Northern Ireland is now urged to help identify those most deserving of recognition for the contribution they make in helping to reduce the number of injuries and deaths on our roads.
Supported by Road Safe NI, and sponsored by leading accident management firm, CRASH Services, the awards recognise the work taking place within schools, emergency services, voluntary, public and private sectors and by key individuals across Northern Ireland.
The closing date for entry is Friday, 28th October and details of how to enter, including eligibility criteria, can be found at www.crashservices.com/niroadsafetyawards
Tony McKeown, Sales and Marketing Director at CRASH Services, said:
"We were delighted with the outstanding success and feedback received from the inaugural NI Road Safety Awards last year and we now look forward to emulating that with our 2016 nominees. Together, it is vitally important that we properly and fully recognise the hard work, commitment and thought that goes into helping keep our roads safe."
Category Sponsors
The awards, which are supported by category sponsors, JMK Solicitors, Green Motion Car and Van Rental and New Driver NI, Applegreen, Hankook Tyres, AA Drive Tech, Abbey Centre and Business Compliance Solutions Ltd, will be judged by an expert panel made up of senior representatives from the private, public and voluntary sectors.
The gala awards ceremony takes place at Cultra Manor on Friday, 25th November as part of Road Safety Week.
The ten categories to nominate for are:
• Primary School
• Secondary School
• Driving Instructor
• Emergency Services Person
• Voluntary Sector
• Public Sector
• Business Sector
• Cycling
• Motor Cycling
• Lifetime Achievement
Tony McKeown added:
"So much of this takes place behind the scenes or without wider public knowledge so it is vitally important that we properly acknowledge the amazing work that is being done by individuals and groups across Northern Ireland.
"The call is now out for nominations, so whether you are involved in a scheme yourself, have benefited from an initiative or know someone who has spearheaded road safety in your area, these are the awards for them."
The event will be hosted by U105's Frank Mitchell who helped launch the awards, said:
"I am absolutely thrilled to be involved with the NI Road Safety Awards for a second consecutive year. There was a fantastic response following the first event – it's absolutely right that we continue to keep recognising the amazing and lifesaving work which is carried out on our behalf.
"I look forward to seeing everyone at the Gala awards ceremony at Cultra Manor on Friday 25th November."
Last year, a total of 25 awards were presented across 10 categories in front of over 160 invited guests a stunning ceremony. Winner of the prestigious Lifetime Achievement Award, following a dedicated 22 years of service and a commitment to road safety with the Northern Ireland Fire & Rescue Service, was Station Commander Rory Dumigan.
CRASH Services is NI's Largest Accident Management Company. Everything's Taken Care Of At No Cost. Speak to one of our specialists by contacting us today.