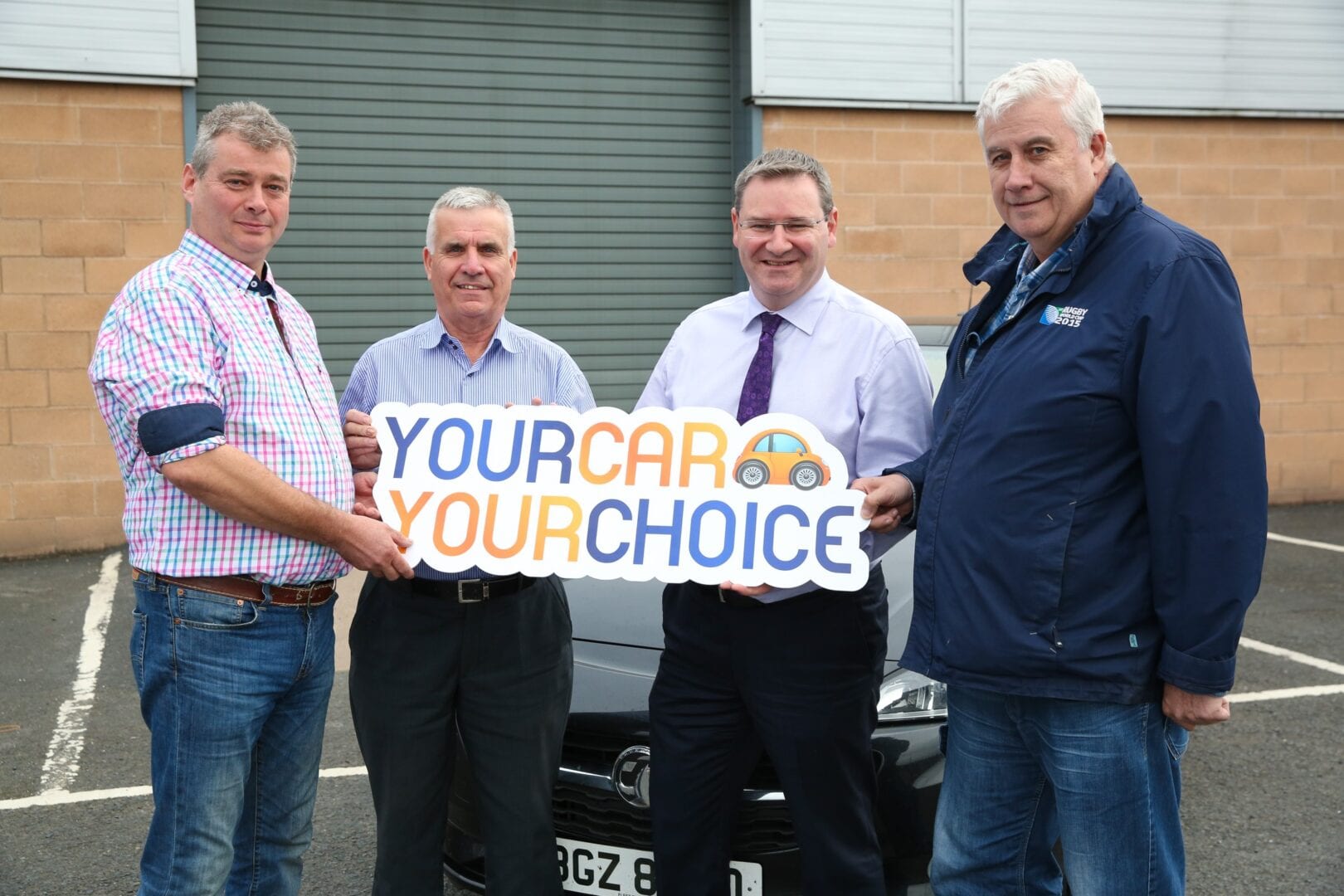 Your Car Your Week is Launched by Northern Ireland Bodyshop Alliance Committee Members Richard Hastings, Jim Porter, Jonathan McKeown and Glyn Hanna.
Motorists are being urged to support independent car accident repair centres as part of "Your Car Your Choice" week which runs from 24th to 30th September.
There are over 120 independent repairers across Northern Ireland providing a local service to motorists involved in accidents. The campaign week is being backed by the Northern Ireland Bodyshop Alliance and sponsored by leading accident management firm CRASH Services, who have also produced an educational video to highlight common issues these businesses face.
Richard Hastings, Chairman of NIBA, commented "We want the motoring public to know that they can always choose who fixes their vehicle. This is particularly relevant when making an insurance claim. Many repairers report that their customers are being directed to the Insurance Company's preferred garage, but it is unlawful for an insurer to insist on this.
"The new video highlights the services provided by independent repairers. In addition, although insurance companies know well that they cannot insist that a vehicle is repaired at their chosen garage, they use many tactics to try to convince motorist's otherwise. So the video addresses some of the common myths.
For example, certain Insurers try to confuse motorists by claiming that so-called 'approved' garages are better, when all 'approved' means in practice is that a garage has made an agreement to work at a discount and using methods determined by the insurer, on the expectation of more repairs being directed to them by the insurance company.
Richard concluded "All repairers want is a level playing field, where insurers do not mislead, or use unfair means, against policyholders about their right to choose their own repairer".
To view the 'Your Car Your Choice' video and to find your nearest repairer, please visit our accident repairs page.
If you've been in an accident CRASH Services can help. Speak to one of our specialists from our claims team today on 028 9066 0244 or visit our contact us page.