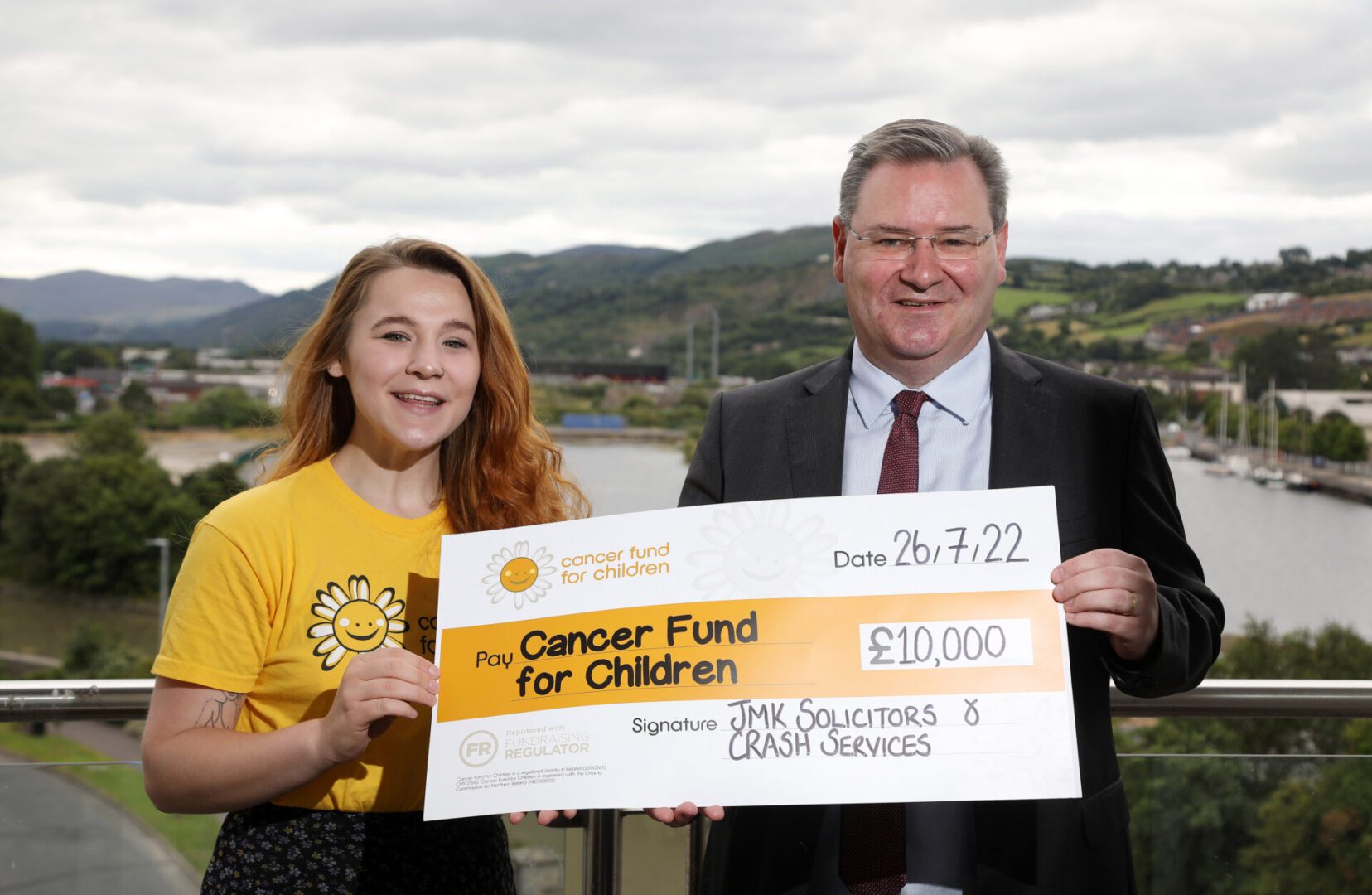 Staff at CRASH Services and  JMK Solicitors have raised £10,000 so far in 2022 in the third year of their partnership with charity partner Cancer Fund for Children. This amazing effort, the result of the fundraising efforts of their team, takes the total raised to date to over £100,000 since the partnership began in 2020.
Cancer Fund for Children supports children and young people diagnosed with cancer or living with a parent diagnosed with cancer. They offer support in their home, community, on the hospital ward and at their residential centre, Daisy Lodge in Newcastle, with the aim that no family faces cancer alone.
Jonathan McKeown, Chairman of JMK Solicitors and CEO at CRASH Services said,
"We were delighted to be able to support Cancer Fund for Children over the past 2 and a half years. This is particularly so during the covid-19 pandemic which impacted many charities across the province.
Credit must go to our staff who continued to come up with engaging fundraising challenges despite many of the team working remotely. Thankfully, in-person events have returned and we have taken part in the Belfast Marathon this year, and several members of the team are looking forward to a skydive this September. Our staff have also opted to join into a monthly salary sacrifice scheme where a regular amount is donated each month going directly to the charity.
Jonathan added, "We are delighted to surpass the £100,000 fundraising milestone and look forward to continuing our efforts through the latter part of the year for our amazing charity partner."
Alex Murdock, Corporate Fundraiser at Cancer Fund for Children commented, "It has been such an amazing start to our third year of partnership with the teams at JMK Solicitors and CRASH Services. The salary sacrifice scheme continues to be a fantastic initiative to engage their staff in the vital work of Cancer Fund for Children. I was thrilled as well to see the teams taking to the streets of Belfast for the annual marathon at the start of May putting their best feet forward in support of families impacted by cancer!
I can't wait to get stuck into the second half of 2022 with all the team to celebrate not only the return to in-person events which we have been waiting on for so long, but also mark the end of our 3rd year of partnership in style with events like the Superhero Skydive in September (which is also Childhood Cancer Awareness Month!).
It has been such a phenomenal 2 and a half years with such an incredible group of people and all the team here at Cancer Fund for Children cannot say thank you enough for their enthusiasm and commitment to our vital work. Together we have, and will continue over the coming months of 2022, to ensure no child or family has to face cancer alone."
If you are feeling inspired and think your organisation would be interested in raising vital funds to support local young people and families impacted by cancer, please don't hesitate to get in touch with Alex Murdock at alex@cancerfundforchildren.com or call 028 9080 5599.
---
If you've been in an accident, CRASH Services can take care of everything at no cost to you. Please speak to one of our specialists from our claims team today. Or call us now on 028 9066 0244.
We offer a range of services Accident management, Recovery, Repairs, Replacement Vehicles, Claims, Breakdown Cover, and Legal and Medical assistance. We are proud to help our customers, click the link to see a few examples of the fantastic feedback we received recently.