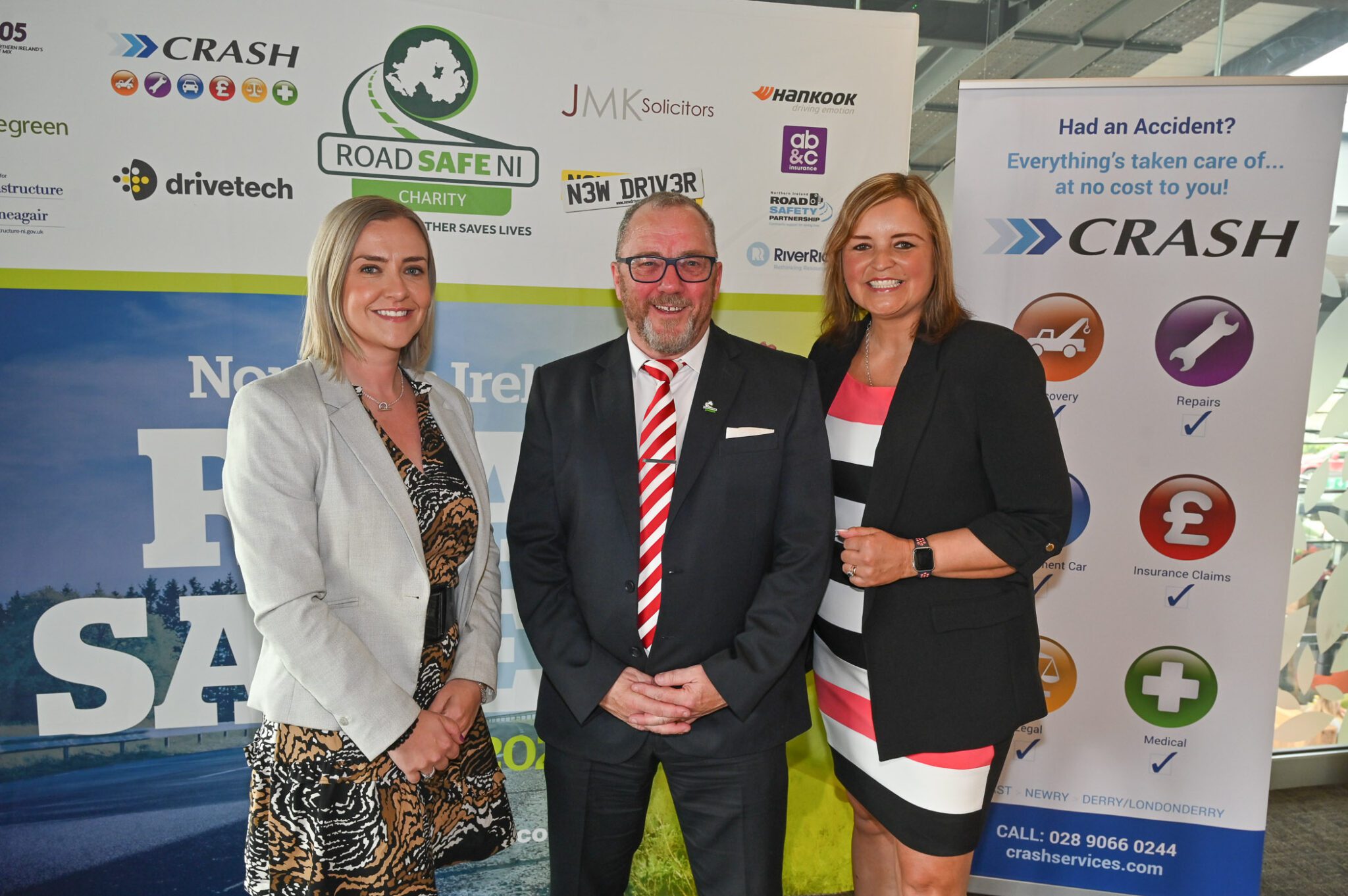 Pictured: Paula Mahoney, Head of Marketing CRASH Services, David Jackson, Chairperson Road Safe NI and Denise Watson, Radio Presenter U105
This year's Northern Ireland Road Safety Awards, which recognise the contribution of individuals and organisations who have worked to improve road safety in their communities, has been launched on Friday 23rd September at Applegreen (M1) Southbound.
The awards, now in their eighth year, are organised by Road Safe NI Charity along with headline sponsors, leading accident management firm CRASH Services. A total of 12 categories are on offer and include schools, emergency services, voluntary, public, and private sectors.
Davy Jackson, chairperson of Road Safe NI Charity commented, "We were delighted with the outstanding success and feedback received from the awards over the last number of years. We now look forward to emulating that with our 2022 nominees. It is vitally important that we properly recognise the hard work and commitment that goes into helping keep our roads safe."
Jonathan McKeown CEO of CRASH Services commented, "We are honoured to once again be the headline sponsor of the NI Road Safety Awards. At CRASH, our commitment is to help motorists when they need us most and we are passionate about playing our part in continuing to promote road safety to all road users across NI. The call is now out for nominations, so whether you are involved in a road safety scheme, have benefited from an initiative, or know someone who has spearheaded road safety in your area, now is the time to nominate your road safety champions."
The full list of categories includes Education; Primary Schools, Education; Secondary Schools, lollipop person, driving instructor, emergency services person, voluntary sector, open category, LGV/HGV sector, public sector, business sector, Young driver and lifetime achievement.
Other award category sponsors include Drivetech; from the AA, the Department for Infrastructure (DFI), JMK Solicitors, U105, New Driver NI, Applegreen, Hankook Tyres, Riverridge, AB&C Insurance and the NI Road Safety Partnership.
The awards ceremony takes place at Cultra Manor, Belfast on Friday 18th November as part of Road Safety Week.
Enter the NI Road Safety Awards
Download the nomination form here: www.roadsafeni.com/wp-content/uploads/2022/09/NOMINATION-FORM-2022.doc
The closing date for entries is Friday 28th October
---
If you've been in an accident, CRASH Services can take care of everything at no cost to you. Please speak to one of our specialists from our claims team today. Or call us now on 028 9066 0244.
We offer a range of services Accident management, Recovery, Repairs, Replacement Vehicles, Claims, Breakdown Cover, and Legal and Medical assistance. We are proud to help our customers, click the link to see a few examples of the fantastic feedback we received recently.