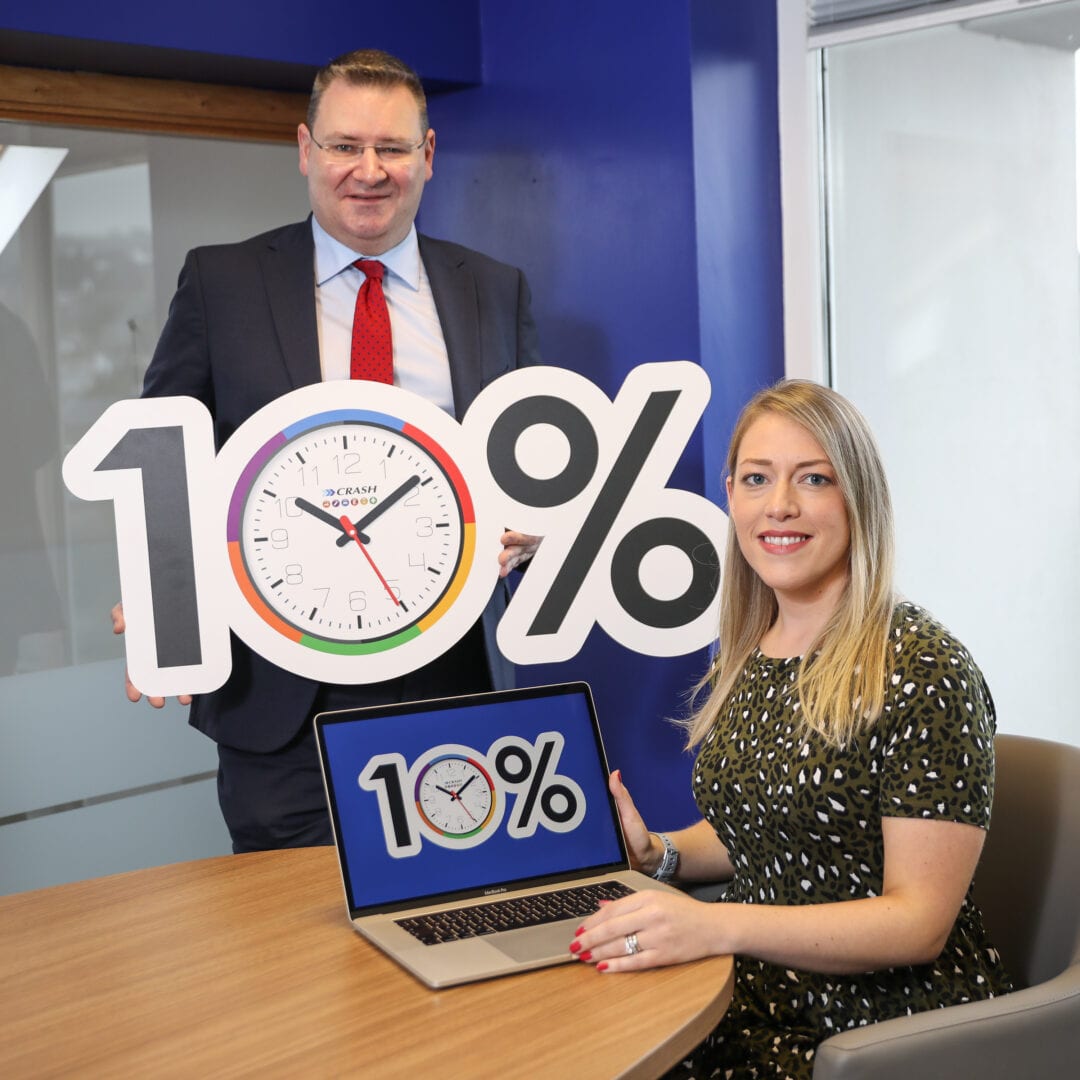 Pictured: Jonathan McKeown, CEO and Michelle Murphy, HR & Operations Manager.
Leading accident management company, CRASH Services, is the latest innovative employer to announce they have reduced their working week for staff, with no impact on pay after a year long research project.
The Northern Ireland based firm who assist motorists involved in road traffic accidents, have cut full-time staff hours by 10%, from 35 hours to 31.5 hours from the 1st July 2019 improving staff work-life balance.
Jonathan McKeown, CEO at CRASH, commented "We have over 80 staff and they are our most important asset.  We want to ensure they have the right work-life balance.  When we launched the project last summer, there was real excitement.  We have been in operation for nearly 25 years and we have always tried to offer the best working environment and employee benefits package, so our staff were reassured this was not about cost-cutting.
From our own research, we knew that having more free time to spend with family and friends is something employees want more of.  Whilst staff wellbeing is becoming a bigger concern for all employers.'
Michelle Murphy HR & Operations Manager at CRASH understood that to make this possible a lot of groundwork had to be undertaken,
'We knew there was a lot of preparation to do before we could implement the new working patterns.  So we set our teams the challenge of reviewing every working practice.  We encouraged every staff member to look at their individual tasks and ask what was inefficient.  This has been a really insightful process and they have eliminated some tasks, streamlined other processes and used technology to make time savings.
"These suggestions were then recorded before being reviewed by the Management Team.  We are pleased that the vast majority of their recommendations are being implemented.
"This project is not necessarily about reducing everyone to a four day week.  It might suit others to work their hours over five shorter days and if that's what a staff member wants, we will try to accommodate.   Indeed our intention is to reduce working hours by another 10% in the summer of 2020 following our learnings from the next 12 months.'
CEO Jonathan is delighted that the company can make this reduced working life a reality for the team, "We have always had fantastic staff retention levels but we never want to be complacent.  We feel that with increased automation, reduced hours will be considered by more employers.  So we wanted to take a leading role.  We are happy to share our experiences with others.
You might also be interested in our latest article: CRASH Services' focus on flexibility with innovative approach to work-life balance.
For more information, contact CRASH Services on 028 9066 0244 or visit our contact us page today.