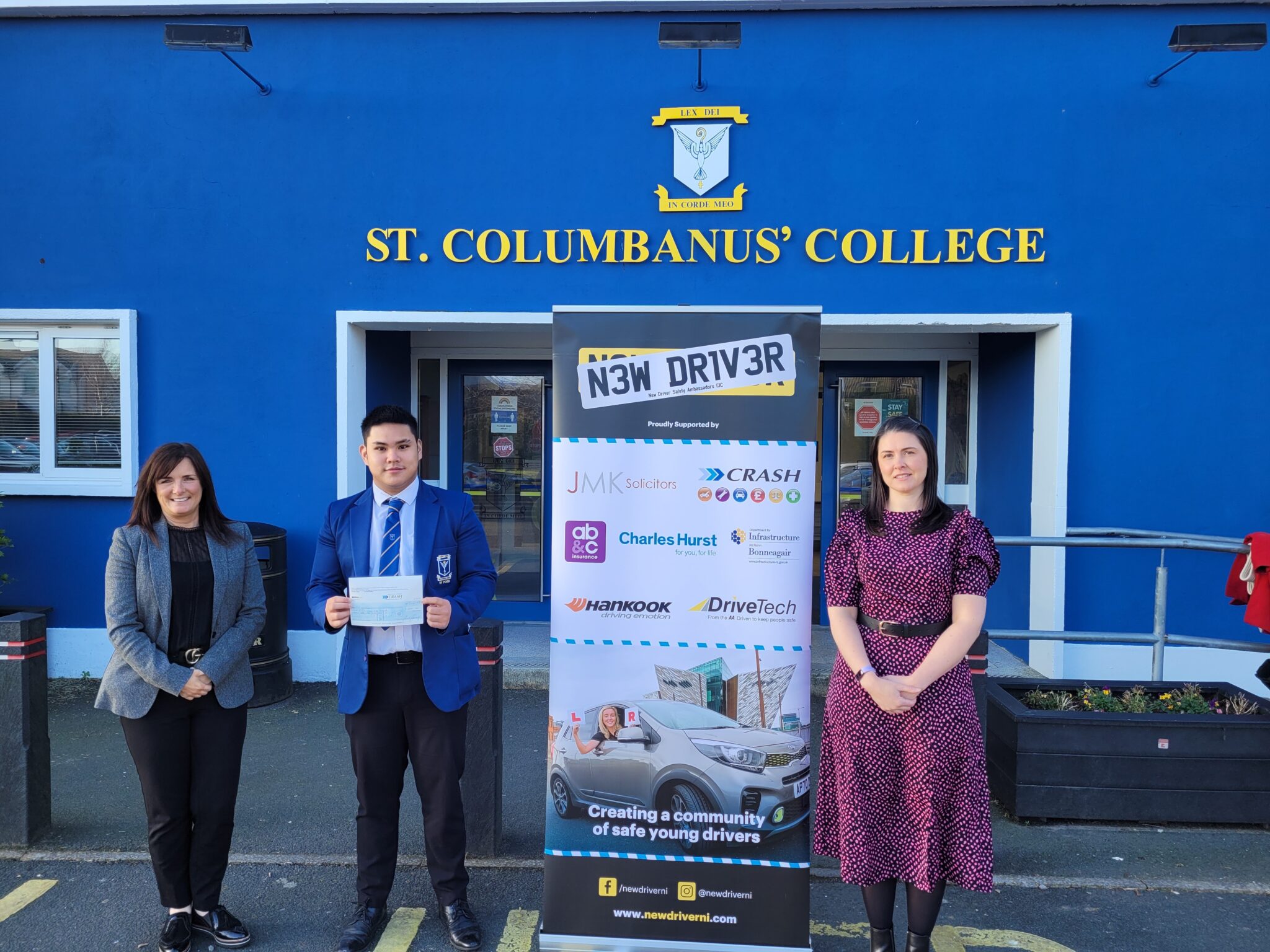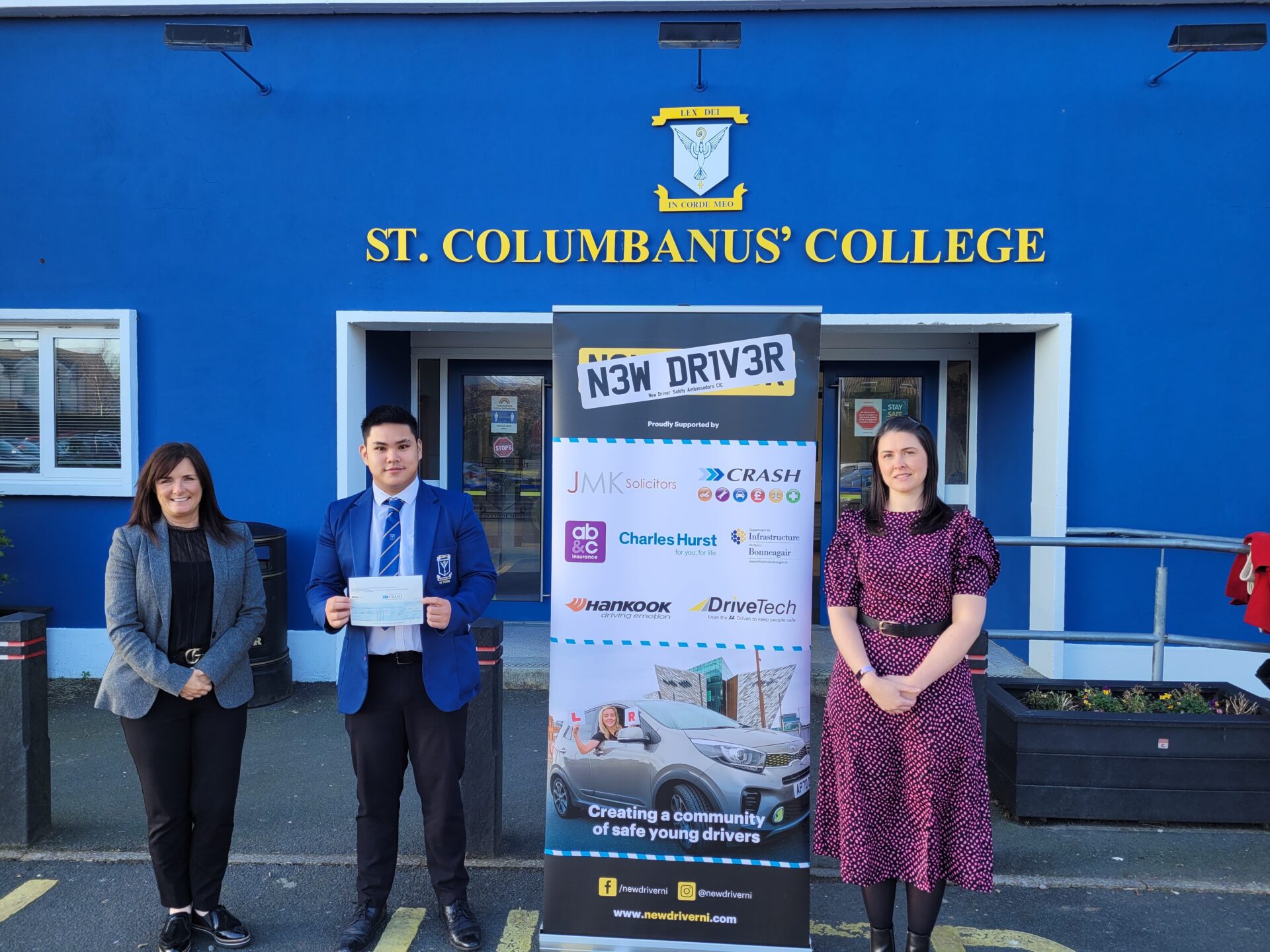 CRASH Services is delighted to sponsor New Driver NI's Cash Prize Draw which saw local a Bangor pupil win a £1,000 cash prize for taking the New Driver NI Safe Motoring Pledge.
Christian Job Basuel, a student from St Columbanus College, Bangor was the lucky recipient of New Driver NI's £1,000 cash draw prize after signing up to the New Driver NI Safe Motoring Pledge.  The Safe Motoring Pledge is sponsored by CRASH Services, NI's leading Accident Management company and JMK Solicitors, NI's Number 1 Personal Injury Solicitors, who both support the promotion of road safety and new driver education across NI.
Since September 2021 over 1,200 students across Northern Ireland have signed up to the pledge, committing to safe motoring in the following ways: respecting the speed limit, never using mobile devices while driving, never ever driving under the influence of drink or drugs, always wearing a seat belt and being aware that driving when tired can kill.
The students were entered into monthly draws for a chance to win £100, with larger prize draws in June and December 2021. The lucky winners included students from Methodist College, Belfast, Sacred Heart College, Omagh, Abbey Grammar, Newry, Dromore High School, Dromore and Cross and Passion College, Ballycastle.
Emma Duffy, New Driver NI Special Projects Officer, commented "I'm delighted over 1,200 students this academic year have already signed the New Driver NI's Safe Motoring pledge, and I'm thrilled to present Christian with his cheque for £1000! The pledge is an important commitment for our young drivers in helping to create a community of safe drivers."
Paul Cooney, Fleet and Repair Director at CRASH Services said "We are delighted to be able to support New Driver Safety Ambassadors.  As an accident management company, we feel there is real importance to educating young people on the importance of safe motoring as they progress into driving for the first time. We also feel the advice and support that New Driver provide is excellent in nurturing their journey from getting started, right through to tips and advice for their vehicles, scenarios and weather conditions."
Maurece Hutchinson, Managing Director at JMK Solicitors said "As a legal firm specialising in personal injury cases, many of which are a result of road traffic accidents, we feel there is a real importance to educating young people on the importance of safe motoring as they progress into driving for the first time. We are delighted to support New Driver Safety Ambassadors with their work."
About New Driver NI
New Driver NI is a community interest company that aims to educate all new drivers and passengers on making good motoring decisions, to create a community of safe drivers.
They provide year 13 and 14 students across Northern Ireland with a magazine packed full of useful information to help them get on the road safely and stay safe once there. They offer a tailored presentation to schools to encourage good road habits, during which they invite the students to sign up to the Safe Motoring pledge.
The programme is completely free for schools as funding is provided by DFI Road Safety Grant Scheme, six local PCSP', and by corporate sponsors including, CRASH Services, Hankook Tyres, AB&C Insurance, DriveTech UK, JMK Solicitors and Charles Hurst.
For more information and access to the New Driver NI magazine see www.newdriverni.com.
---
CRASH Services, Northern Ireland's largest accident management specialists aim to take away the hassle after a collision and get motorists back on the road as quickly as possible.
We can arrange vehicle recovery, collision investigation, organise repairs, provide a replacement vehicle, liaise with insurance companies and offer legal and medical assistance.
There is no fee for the accident management service as all costs are recovered from the insurers involved.
If you've been in an accident, CRASH Services can take care of everything at no cost to you. Please speak to one of our specialists from our claims team today. Or call us now on 028 9066 0244.