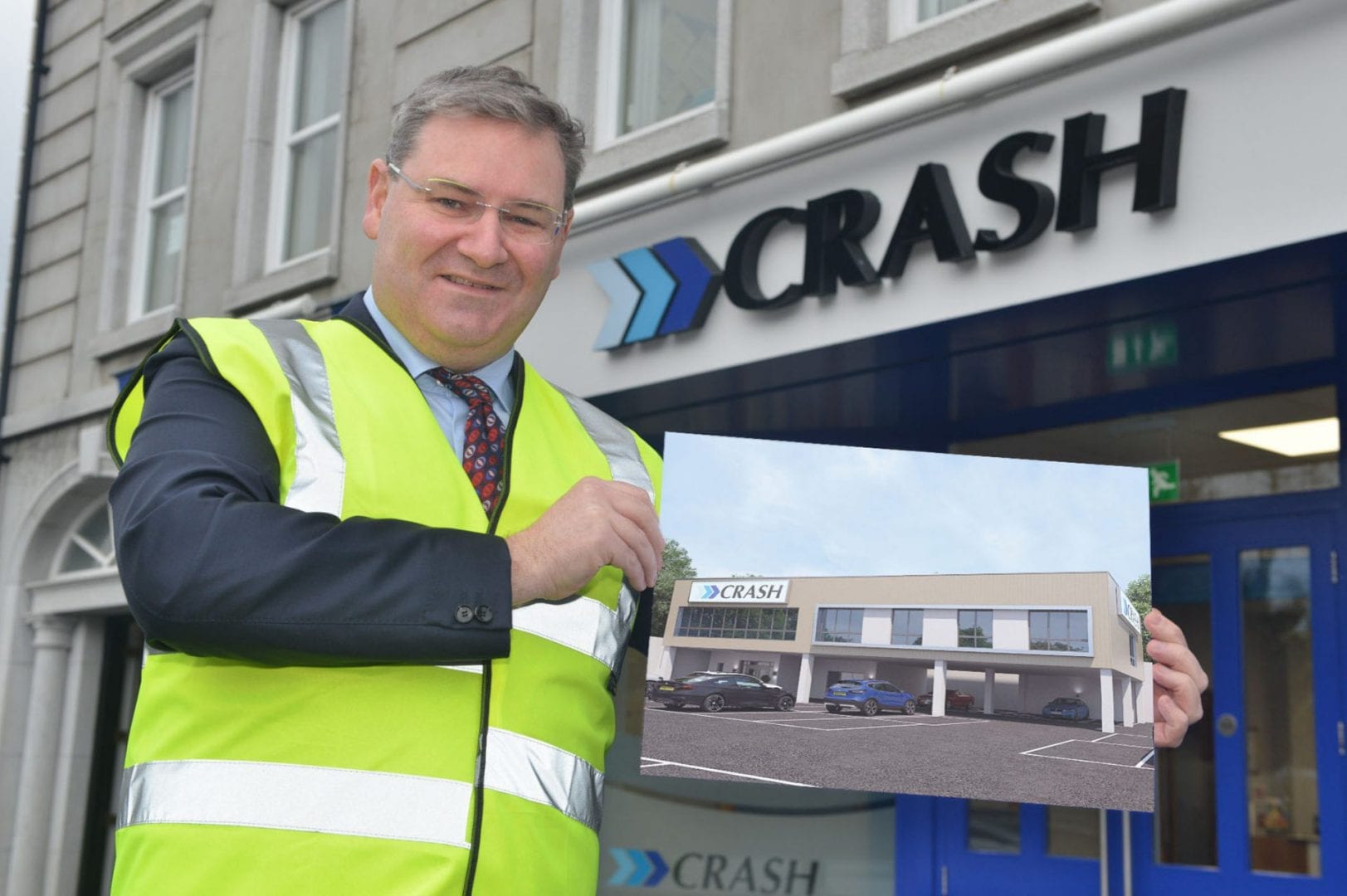 The Stockmans Lane redevelopment – includes staff gym and rooftop garden
CRASH Services, Northern Ireland's leading Accident Management Company, has announced a significant investment in Belfast.
The company which was recently recognised as 'best in class' in its industry for its track record of returning customers repaired vehicles 43% faster than competitors have unveiled plans for the state-of-the-art building at Stockmans Lane, Belfast.
The impressive new 2-storey building will include a gym and a rooftop garden fully kitted out with picnic benches for staff to enjoy lunches and meetings. The site will also incorporate a two-car garage for valeting vehicles.
Bicycle parking for staff will be available as well as charging points for electric cars.
The new build also enjoys open car park storage, a ground-floor reception, open plan office space, several meeting rooms and a kitchen.
Explaining the vision for the new building, David Maxwell Architects comments, "This scheme has been designed to bring natural light into all areas of the building to provide staff with a welcoming, light-filled environment.
The offices will be fitted out with the highest standards of infrastructure, technology and staff amenities – including a gym and shower.
Externally, the building will use timber cladding to upper floors to reflect and integrate with the existing boundary trees in Musgrave Park which is adjacent to the site," the local architect adds.
Jonathan McKeown, Chief Executive Officer at CRASH,
says the new building in Belfast will be an "incredible addition to the company".
"CRASH Services continues to grow, and as we grow, we knew we needed the perfect building for our staff members to service our Belfast customer base.
The new building at Stockmans Lane is a well overdue project that we have been contemplating for several years now.
The staff are probably mostly excited about the new gym available on-site and the roof-top space, despite the likelihood for inclement weather.
The location of our premises with easy access from the M1 makes us convenient for customers who firstly know where we are and secondly that we can be reached almost as effortlessly in person as we are on the telephone.
Demolishing the current building on the site and replacing it with what David Maxwell has designed will set us up for the new decade ahead with a strong message to customers that we are the company you can rely on and turn to first when you have an accident."
The anticipated completion date of the building is September 2021.
---
If you've been in an accident, CRASH Services can take care of everything at no cost to you. Please speak to one of our specialists from our claims team today. Or call us now on 028 9066 0244.
We offer a range of services Accident management, Recovery, Repairs, Replacement Vehicles, Claims, Breakdown Cover, and Legal and Medical assistance.
We are proud to help our customers, click the link to see a few examples of the fantastic feedback we received recently.